Regular price
Sale price
$15.00 USD
Unit price
per
Sale
Sold out
The medium-sized glass vase has an elegant yellow amber glaze that gives it a warm and inviting appearance. The surface of the vase is decorated with a geometric-shaped pattern, adding a modern and stylish touch to the design.
Around the neck of the vase, there is a light copper band that complements the yellow amber glaze perfectly. The vase also features a matching light copper handle that is both functional and decorative, adding to the overall beauty and sophistication of the vase.
Hanging from the copper band, there is a lacy copper autumn leaf adornment that adds a touch of charm and whimsy to the vase. The autumn leaf design gives the vase a seasonal feel, making it a perfect decoration for fall or winter months.
This vase would make a lovely addition to any home decor and can be used as a centerpiece or accent piece in a variety of settings. It's a beautiful and unique piece that is sure to be admired by all who see it.
Flowers in photo not included.
5.5" Tall x 4" Diameter. 1lb 2.5oz
This beautiful Yellow Amber Glazed Glass Vase with Geometric Pattern and Copper Accents can be purchased for various events and occasions, including:
Home decor
Housewarming parties
Thanksgiving or Christmas table centerpieces
Wedding receptions and ceremonies
Bridal or baby showers
Mother's Day or Father's Day gifts
Anniversary celebrations
Corporate events or office decor
Fall or winter seasonal decorations
Birthday parties or gifts
Share
View full details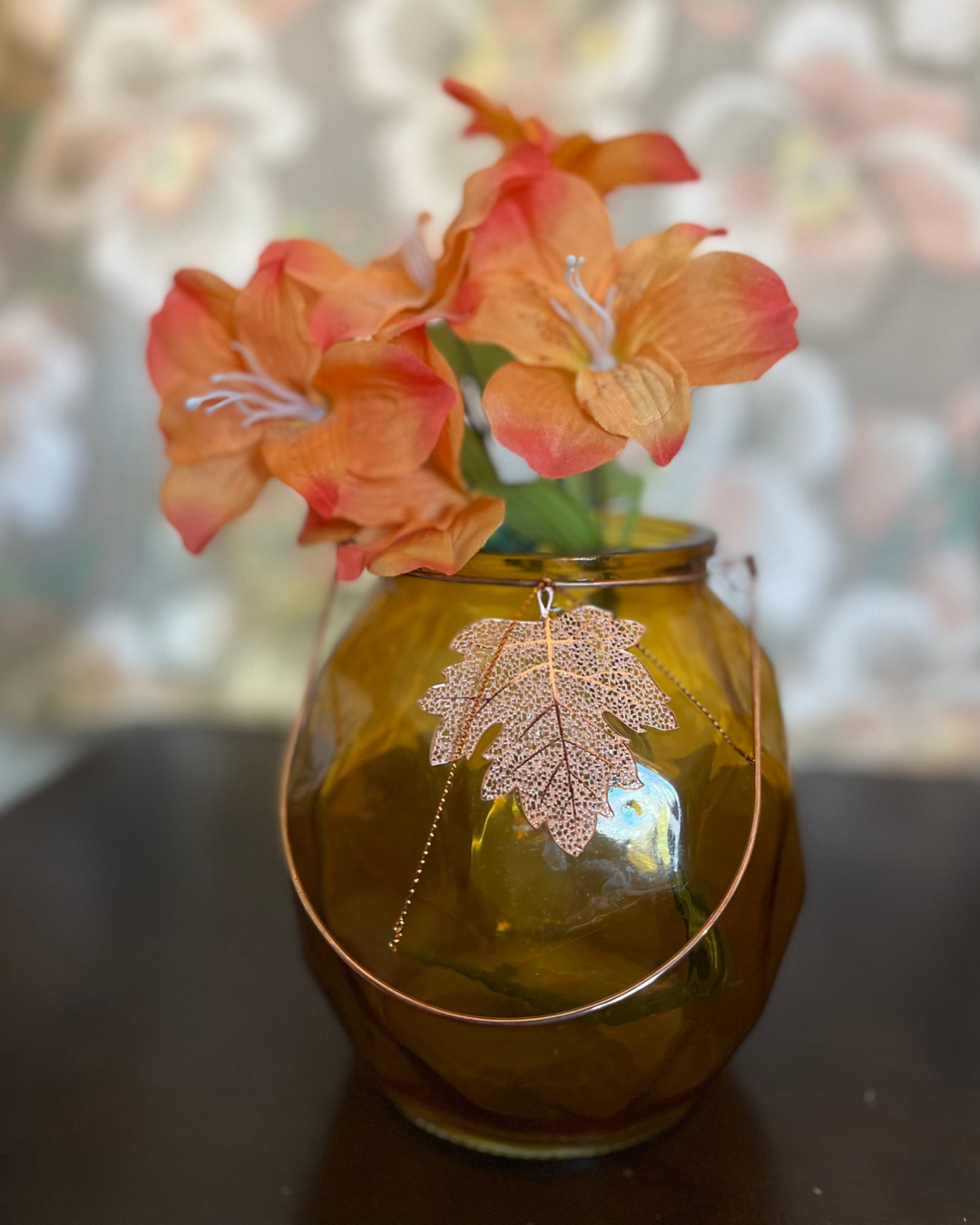 Welcome to our general products page, a collection of second-hand gems, handcrafted wonders, and vintage finds. Explore and uncover the perfect piece that resonates with your style and values. Enjoy your journey through creativity, sustainability, and unique craftsmanship. Happy exploring! 🌟🛍🌻