Regular price
Sale price
$30.00 USD
Unit price
per
Sale
Sold out
Introducing our 3-Piece Alabaster and Wood Candle Holder Set! 🕯️✨
Illuminate your space with a touch of elegance and nature-inspired charm.
Crafted with love and a sprinkle of magic, these candle holders are the perfect blend of alabaster's ethereal beauty and the warmth of natural wood. Each piece is hand-selected to ensure its unique and captivating character, making your candle-lit evenings truly extraordinary.
Key Features:
1️⃣ Exquisite Alabaster Glow: Watch as the candlelight dances gracefully through the translucent alabaster, creating a mesmerizing play of light and shadow. It's a sight to behold!
2️⃣ Natural Wood Base: The rich, warm tones of the wooden base provide a sturdy and stylish foundation for your candles. It adds a rustic yet refined touch to any décor.
3️⃣ Versatile and Chic: Whether you're setting a romantic mood for a cozy dinner or adding a touch of sophistication to your living room, these candle holders effortlessly elevate any space.
Benefits:
🌟 Create an Ambiance: Transform your home into a sanctuary of tranquility and serenity. The soft glow emitted by these candle holders instantly sets a calming and inviting atmosphere.
🌟 Sustainable Style: Made from natural materials, our candle holders embrace eco-conscious living. By choosing this set, you're opting for a sustainable and environmentally friendly option.
🌟 Perfect Gift Choice: Surprise your loved ones with a gift that exudes elegance and a dash of enchantment. These candle holders are perfect for birthdays, housewarmings, or any special occasion.
So, ignite your senses and let the "Radiant Nights" candle holders illuminate your space with their timeless beauty. Embrace the magic of flickering candlelight and indulge in moments of pure bliss.
🛒 Shop now and let the glow of alabaster and wood transform your space
✨ Because every night deserves a touch of radiance! ✨
All measure 2.25" diameter top 3" diameter base
8": 37.2 oz
6": 27.5 oz
4": 16.3 oz
Share
View full details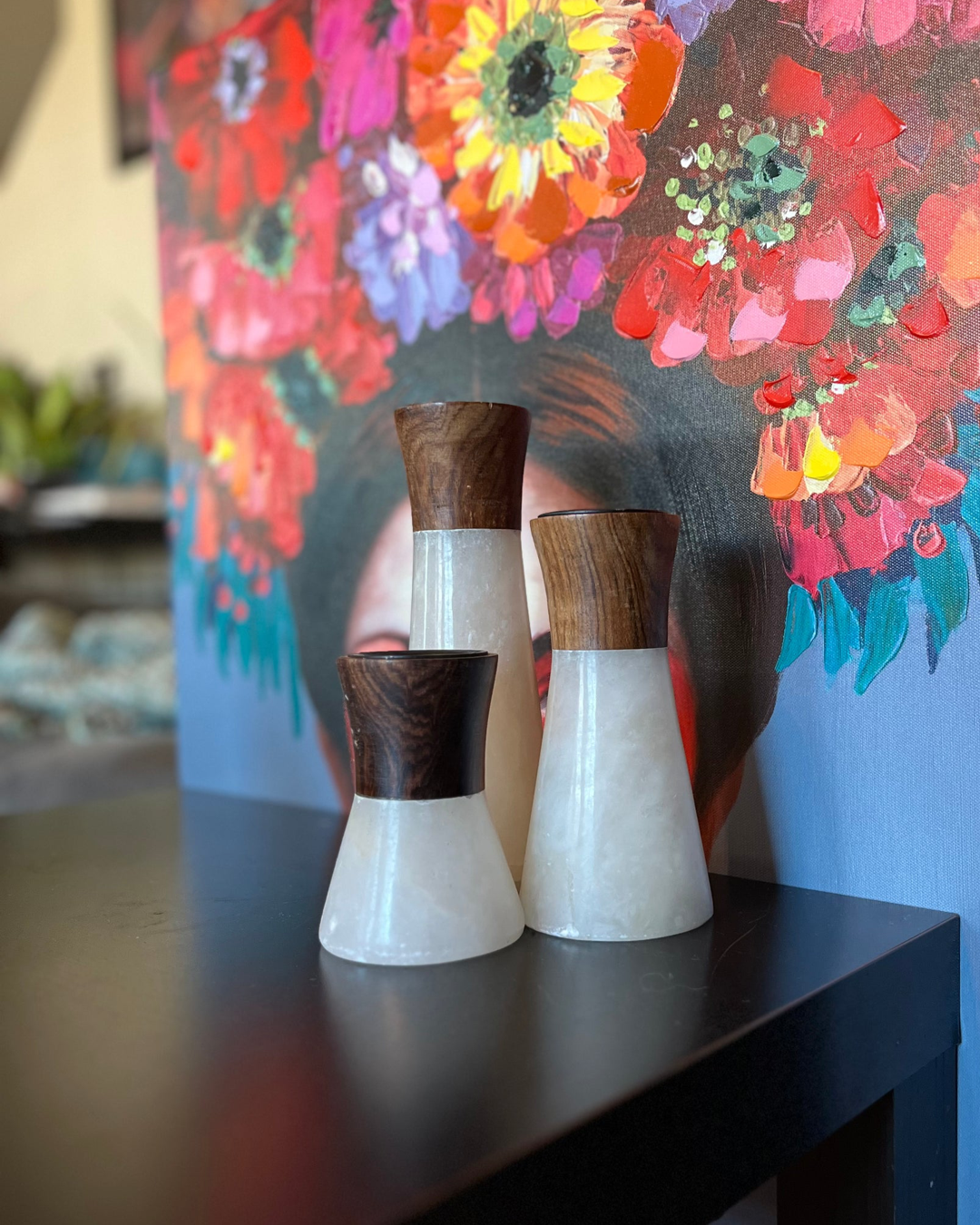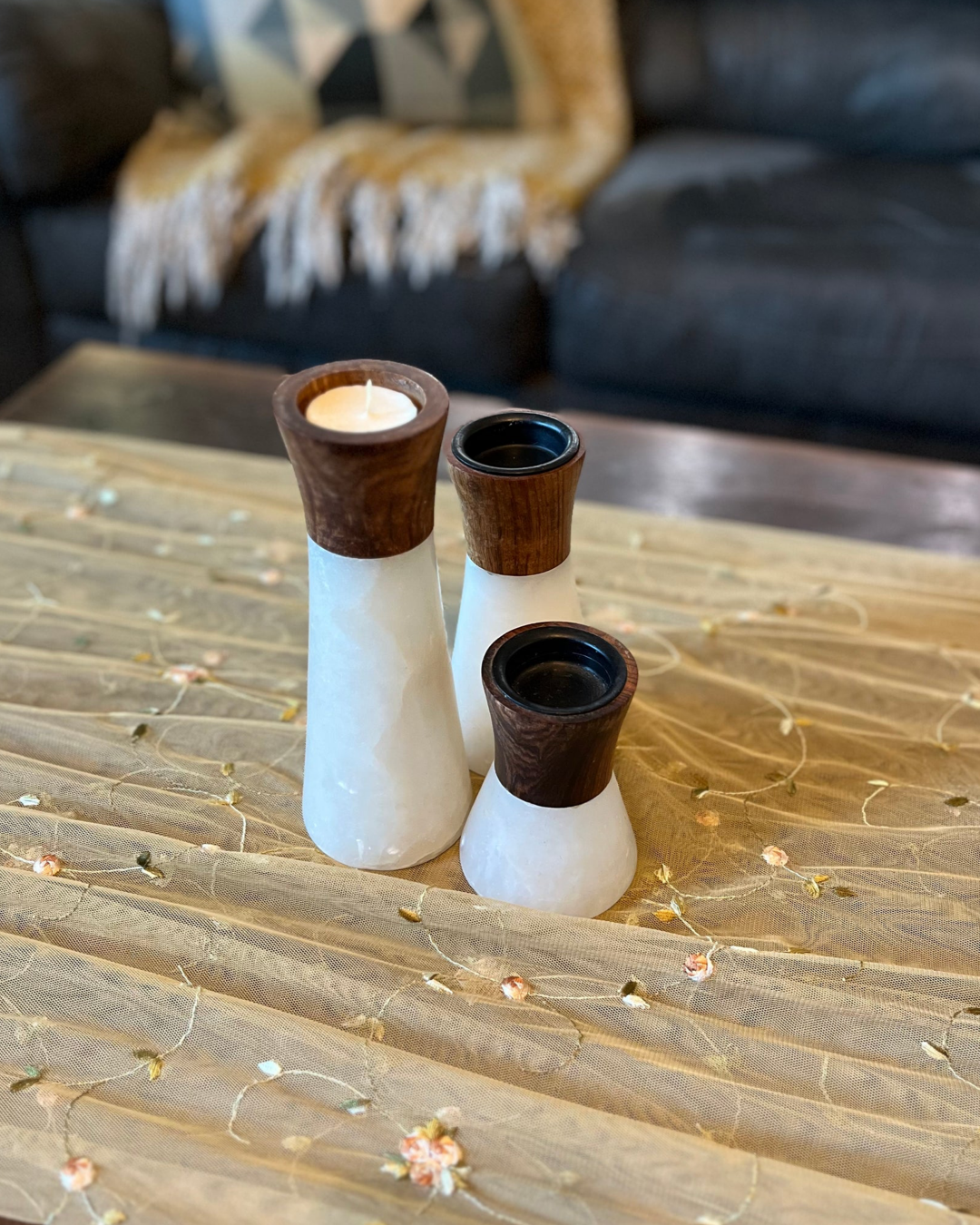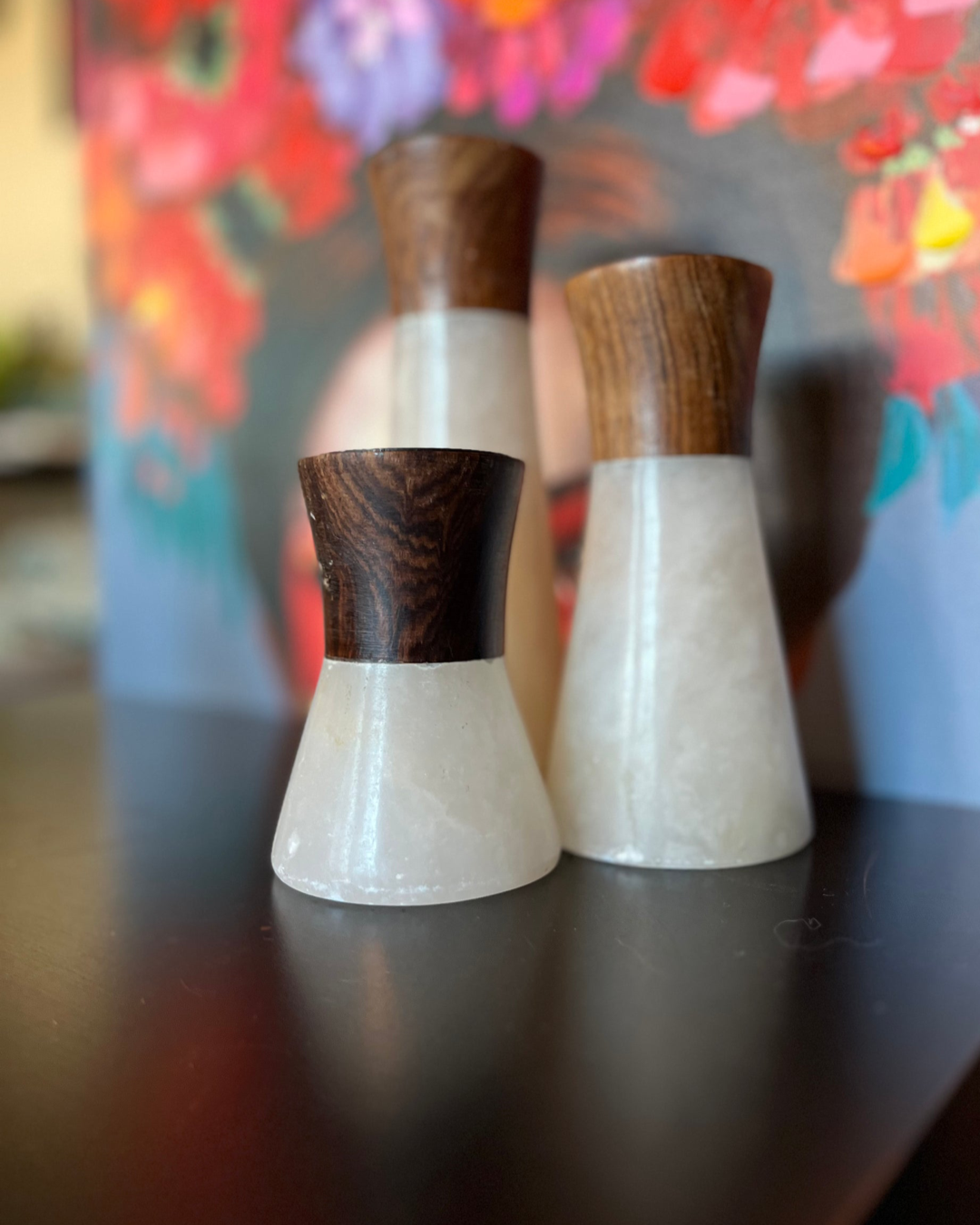 Welcome to our general products page, a collection of second-hand gems, handcrafted wonders, and vintage finds. Explore and uncover the perfect piece that resonates with your style and values. Enjoy your journey through creativity, sustainability, and unique craftsmanship. Happy exploring! 🌟🛍🌻